Sony Alpha a6000 E Mount Lenses: A Simple Guide to All E-Mount Lenses [+6300 & 6500]
One of the most popular mirrorless system cameras, the Sony Alpha 6000 is a great choice for both new and experienced photographers. In this guide, we'll show you all the lenses that work with the Sony Alpha 6000 and help you decide which one is best for you.
The Sony Alpha 6000 is one of the best cameras for beginners, and we're always happy to recommend it.
One thing that people often say is bad about this camera is that it only has a few lenses.
But that is an old idea. There are now a lot of sony alpha a6000 lenses to choose from.
Tamron and Sigma are among the third-party companies that have made lenses for the Sony Alpha 6000, and many others are doing the same.
In this post, we'll tell you about the most important lenses for the Alpha 6000 series.
We'll tell you which ones we like and which ones you should stay away from.
Note: For each featured lens, we've included a link to the product page on Amazon, so you can check the current prices and look for deals from Amazon Marketplace sellers.
What should you think about when you buy Sony Alpha a6000 E Mount Lenses?
Before we talk about the specific lenses we recommend, we'd like to talk about a few things to think about when buying a lens.
A lens that fits your mount
The E-mount is what the cameras in the Sony Alpha 6000 series use.
Sony has lenses for the A-mount as well. Unfortunately, these lenses are only made for Sony SLR cameras, so they won't work on yours. So, when shopping for lenses, you should always make sure to get the right mount.
All of the lenses I recommend in this post have an E-mount and are made for APS-C sensor cameras. This includes the Sony Alpha 6000 and all of its successors (the Alpha 6300, 6400, 6500, and 6600), as well as the Sony Alpha 5000 and 5100 and all of the cameras in the Sony NEX series.
Putting lenses from the Alpha 7 series on the Alpha 6000 series
Still not happy with the lenses you chose? Then you can also look at the lenses for the Sony Alpha 7 series.
Since the Alpha 7 series of cameras also use the E-mount standard, the lenses for those cameras can also be used on the Alpha 6000.
But you can't have it both ways. You can't use an Alpha 7 with an Alpha 6000 series. You can put the lens on the camera without any problems, but it wasn't made for that kind of camera.
If you want to check out the lenses for the Alpha 7 series, we've put together a guide:
Guide to all Sony Alpha 7 lenses
Image stabilization
The Sony Alpha 6500 and 6600 are the only ones in the Sony Alpha 6000 series that have an image stabilizer built in. The Alpha 6000, 6100, 6300, and 6400 don't have this feature, which is too bad.
An image stabilizer keeps photos sharp by making up for small shakes or a shaky hand. It's a great feature that can make a big difference in your photos.
So, if your camera doesn't have an image stabilizer built into the body, make sure to buy a lens that does. The Sony Alpha 6000 has one on most of its lenses, but not all of them.
"Optical Steady Shot" is the name for lenses that can stabilize the image (or OSS for short). In this guide, we'll always tell you if a lens has image stabilization or not.
Getting the right lens for the job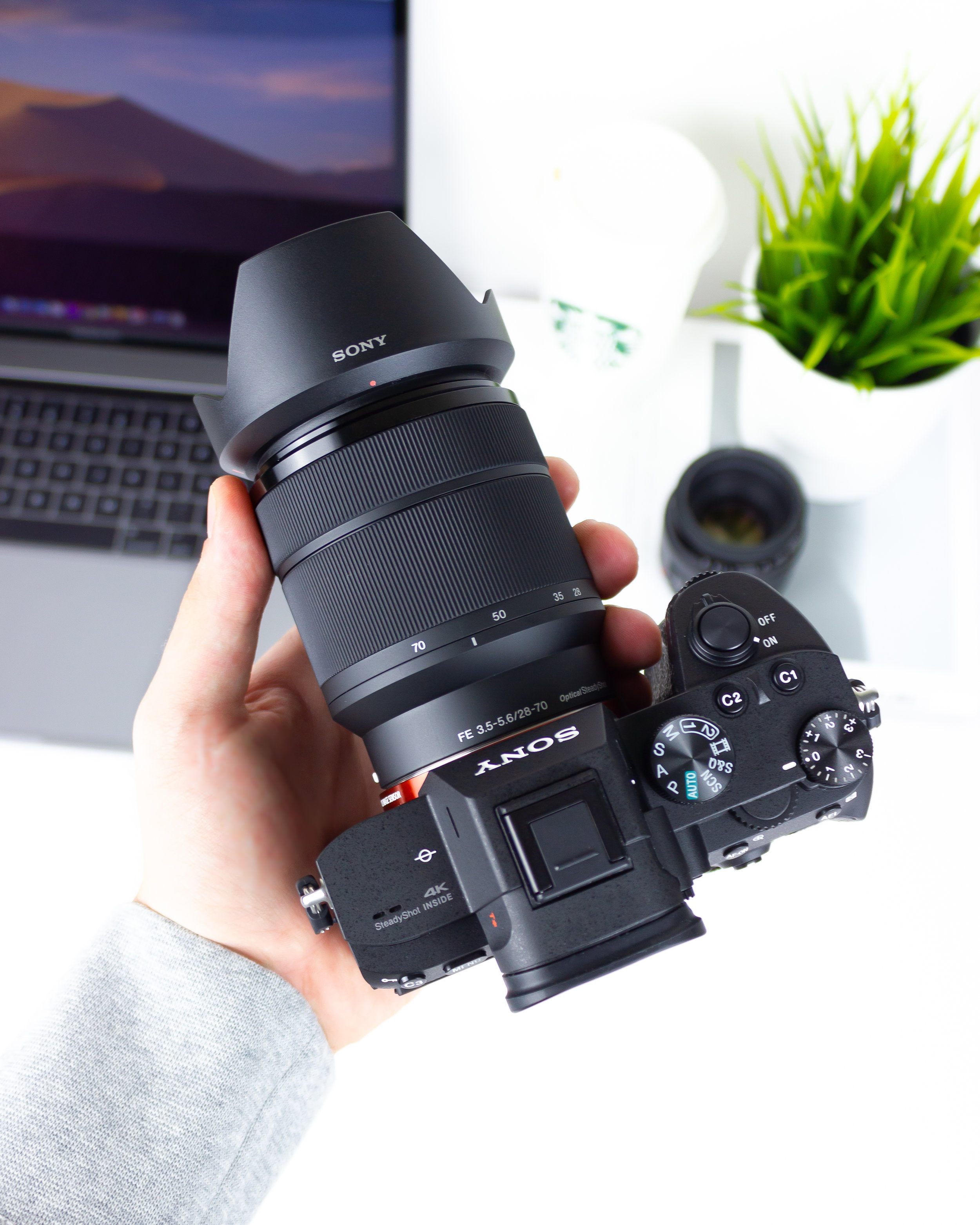 First, you should think about what you want to do with the lens.
Each lens has its own advantages and disadvantages, and there isn't a single lens that can do everything well.
If you want to take portraits, you'll need a lens with a wide opening. If you like to take pictures of landscapes, you should use a lens with a very short focal length. Or, if you want to take pictures of wild animals, like on a safari, you should choose a focal length that is wide.
Lenses that come with the Sony Alpha 6000
The lens in the kit is a Sony 16-50 mm f/3.5-5.6
Many people buy this lens together with the Alpha 6000 in a package. People often say bad things about kit lenses, but we think they're a great way to start out.
For people just starting out with photography and a Sony Alpha 6000, the kit lens is a good choice.
The focal length of 16–50 mm works well for most situations, and the aperture range of f/3.5–f/5.6 is fine for a zoom lens in this price range. The small size and light weight of the lens, which is just under 120 grams, are both big pluses.
The suggested price for this lens is 349 euros, but you should be able to get one for less than 300 euros most of the time.
Though, it doesn't make much sense to buy it separately since it's much cheaper to buy it in a kit with the camera.
To the lens separately / Lens in the camera package
Sony 16-55mm, f/2.8 is the best zoom lens.
The Sony SEL1655G is a zoom lens for the Alpha 6000 series that is in a class by itself.
It has almost the same range of focal lengths as the kit lens, but its aperture is fixed at f/2.8, which makes it even faster.
With this lens, the picture quality is great, and the autofocus is fast and accurate.
However, the lens weighs just under 600 grams and costs about 1,200 euros, which might be too much for some people.
One big problem is that the lens doesn't have an image stabilizer built in, which is a shame given how much it costs. Because of this, we only recommend using it on cameras like the Sony Alpha 6500 and 6600 that have image stabilization built into the body.